I carried a BlackBerry for about four years and loved it. I finally caved in and got a Samsung Galaxy Android phone, which is also fantastic. The thing I miss most about my old BlackBerry is its physical keyboard.
I had mastered the BlackBerry keyboard. No matter how good an onscreen keyboard is, it's no BlackBerry keyboard. I'm used to the Android virtual keypad now, but it's not the same. The Android voice recognition is spectacular, but I just haven't been able to get into dictating to my phone rather than typing.
If you've left BlackBerry because of the wonderful apps and other options available on other smartphones, you can now rejoice in the knowledge that BlackBerry has finally come out with the perfect phone for you. The new Blackberry PRIV
combines the Android operating system with everything we loved best about classic BlackBerry devices.
This post may contain affiliate links; please read my disclosure here.
It's Got a Real Keyboard!
The PRIV's incredible slide-out keyboard slides in and out effortlessly and locks into place. The physical keyboard duplicates a classic BlackBerry keyboard. You can hold in a key to get a capital letter or get a number by holding down ALT with the appropriate key.
Surprisingly, the PRIV's onscreen keyboard is its least attractive feature, reminding me of an iPhone with its lack of multifunction keys.
Speedy Performance
Unfortunately, as you might expect, the BlackBerry PRIV's physical keyboard makes the device thicker and heavier than its competitors. The PRIV weighs 6.77 ounces, which nearly 2 ounces more than the Samsung Galaxy S6.
The PRIV measures 5.79″ x 3.04″ x .37″, with a gorgeous 5.43″ display sporting 2560 x 1440 resolution, 540 PPI and 16:9 aspect ratio. It runs Android 5.1.1 (Lollipop) and boasts 32 GB of internal memory. Plus, it'll accept up to a whopping 2 TB microSD card for additional storage space.
The device has a slightly curved build and feels comfortable to hold and use. It offers intuitive placement of buttons, with the display on/off key on the top left side, volume up/down on the right edge, and bottom keys for back/escape, home and recent apps.
The PRIV charges with a standard microSD cable, but it's also compatible with wireless charging. During my demo period with the BlackBerry PRIV, the device delivered outstanding battery life. I left it sit for more than four days just collecting emails on a busy account along with social media and Words With Friends game updates, and the battery drained only about halfway during that time.
With its 3 GB of RAM on a 64-bit processor, the BlackBerry PRIV performs all of its tasks flawlessly. I tested a PRIV on the Verizon Wireless network, which offers a speedy and far-reaching 4G LTE mobile network.
Videos and games look stunningly beautiful on the PRIV's outstanding display and sounded phenomenal, too. Text on web sites and in messages looks crisp and clear, and the touchscreen has the appropriate amount of sensitivity to make navigation smooth and accurate.
Takes Excellent Pictures & Videos
The BlackBerry PRIV boasts an 18 MP camera with DSLR technology used by professional photographers, and it shows. The camera takes dynamite pictures with quick autofocus and recovery between takes. Pictures turn out sharp with nice detailing and true colors.
The rear camera includes a number of cool features, such as optical image stabilization, fast focus lock, back side illumination stacked sensor, phase detect auto focus, live filters, face detection, enhanced color flash, 4x digital zoom, burst and panorama. The 2 MP front-facing camera also offers image and video stabilization, plus 2x digital zoom, wide selfie (panoramic) mode and multi-frame low light enhancement.
The rear-facing camcorder takes excellent 1080p HD videos with nicely recorded sound, and the front-facing camera shoots 720p HD videos.
Wide Selection of Features
In addition to its jaw-dropping camera and overall performance, the PRIV sports a mind boggling array of other features, such as an activity monitor, a gyroscope, a magnetometer, an accelerometer, ambient light and an altimeter. It includes all of the standard Android app and Verizon's bundled apps, plus some BlackBerry exclusives.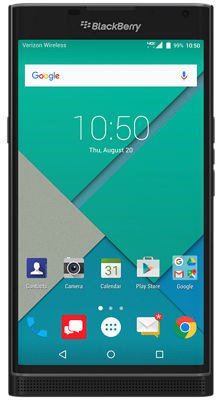 The PRIV nixes the stock Android email app in favor of BlackBerry Hub, which collects email, texts and social media updates all in one place. An alternative for email would be to gather all email accounts from within Gmail.
If you've had issues using Android's standard email app, then you might relish the opportunity to use something different without having to try out a bunch of alternatives from the Google Play Store. However, you might be annoyed if you're used to the Android email app and like it.
You may remember BlackBerry's line of devices for their industry-leading security, and the PRIV takes up the torch in several ways. For example, it includes the DTEK app, which helps in securing the PRIV and offers tips on increasing security on the phone.
You can use the Verizon Wireless BlackBerry PRIV in more than 200 countries with an international plan. The full retail cost is $720 or $30 per month in installment payments.
If you enjoyed this post, could you please like it on Facebook and give it a G+1?
Don't miss all the latest tips, giveaways, reviews, deals and more. Subscribe to weekly email updates here!